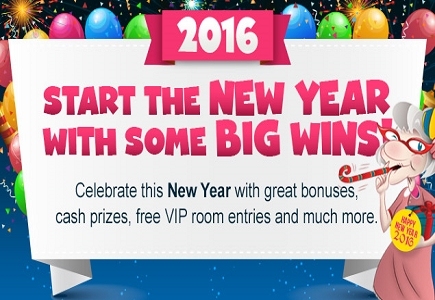 It is a brand spanking new year and 123 Bingo is in the swing of it all and wants to celebrate all month long in January! We saw the New Year's Eve ball drop at the stroke of midnight. Everyone hugged, kissed and made their resolutions that they promised this time they would stick to right?
The excitement keeps right coming as the $1,000 Crystal Ball promotion puts cash in some lucky winner's pockets.
It is not over because you'll to watch the New Year's Crystal Ball drop every hour this month with a $1,000 Jackpot up for grabs!
To play the New Year's Crystal Ball game enter the Quarters (Green) Room and within 21 calls bingo to win the $1,000 cash prize!
The first to bingo on CRYSTAL BALL pattern wins. After the 21 numbers have been called, there is a guaranteed $75 cash prize.
But that is not all because whenever the Crystal Ball drops on the Number 16 in honor of the new year the bingo winner will get an extra 16 BBs absolutely Free!
There are also consolation prizes folks so if you missed out on a Bingo by just one number, you can still win $3 that will automatically be credited to your account.
Sorry pre-buys for this exclusive promotion will not be accepted. To qualify for the BB's a player must have made a deposit within the last 10 days.