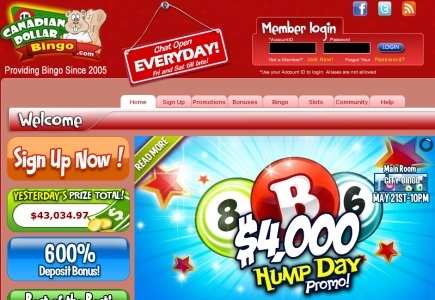 Those of you who are familiar with the 'Pick your Prize' contest at Canadian Dollar Bingo, will be pleased to hear that it will be returning this October. In addition to its exciting comeback, the site will also be giving a massive $75,000 in guaranteed cash.
Site members will have access to exclusive contest patterns that can be expected to play three times per hour from 9am to 11pm, every single day for the month of October. Lucky winners will snag a cash Bingo jackpot and will also be automatically entered into the Grand Prize Draw.
Gamers who prefer casino games will also have a chance to win some cash. A casino contest will be held each week at Canadian Dollar Bingo. Those who compile to top ten winners will win cash and also be entered into the Grand Prize Draw.
For slots, in particular, the site will be hosting 'Winner Takes All' tournaments. In this case, participants' combined Parlay Casino game winnings will count towards a player's chance to get into the top spot for the tournament.
The Grand Prize Winner will be announced on Monday, November 3rd. The winner will have the opportunity to choose a prize from a compilation of spectacular goodies like a $1500 shopping spree and a tropical Cancun getaway.
Both casino and bingo weekly contests will run as follows: October 1st-7th, the 8th-14th, the 15th-21st and finally, the 22nd-31st.